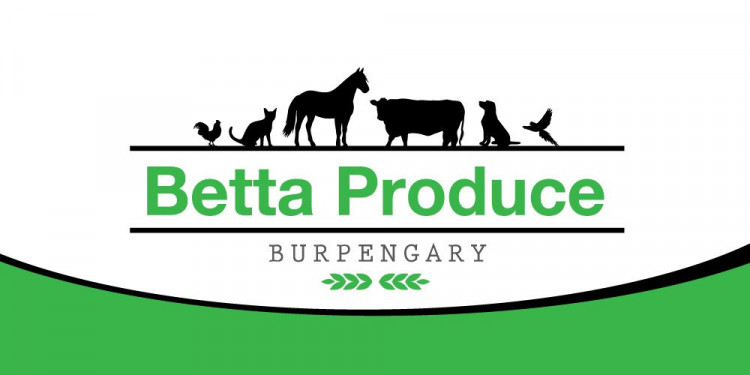 202 Bruce Highway, Eastern Service Road, Burpengary, QLD, 4505
PH: 3888 3996​
MON-FRI: 8:30am - 5:30pm
SAT: 8:00am - 3:00pm
SUN: CLOSED​​
Welcome to Betta Produce Burpengary!

We are located on the Bruce Highway only 35kms North of Brisbane easily accessed by the Eastern Service Road.​
We cater for the small and large animal market, the highly motivated competitor, the pet lover, the bird enthusiast, the keen gardener, the weekend hobby farmer or just someone who wants to buy their favourite pooch a pig's ear!!!!

The business has serviced the Moreton Bay Shire for over 25 years and has been built on customer service and supporting local community groups. Jason and Annete Savery; owners of Betta Produce are supported by a highly motivated well trained team - Meet them below!!!!​​
We invite you to visit Betta someday, y
ou won't forget the service experience!
Name: TOM
​
Current Pets: Cats - Chilli & Bean
​
Animal Interests: Dogs & Cats
​
Hobbies: Sports, Music and Craft Beer
​
Weekend Time: Netflix, Local Food & Drink Venues, Watch Sports
​
Wish To Learn More About: Gardening & Animal Nutrition
​
Favourite Dog Breed: Rhodesian Ridgeback
​
3 Things to take on a deserted island: Sleeping Bag, Knife & Case of Beer
​
Favourite Food: Burgers
​
Secret Talent:​​​​​​​​​​​​​ Can dabble in a range of instruments
Name: BRAYDEN
​
Current Pets: Cat - Trixie
​
Animal Interests: Birds, Guinea Pigs & Cats
​
Hobbies: Gardening
​
Weekend Time: Spending time with my son Harrison
​
Wish To Learn More About: Horse Feed
​
Favourite Dog Breed: English Mastiff
​
3 Things to take on a deserted island: My Family, Food & Umbrella
​
Favourite Food: Steak
​
Secret Talent:​​​​​​​​​​​​​ Building Computers from scratch
Name: JASON
​
Current Pets: Dogs - Marley, Jessie & Millie
​
Animal Interests: Dogs & Cattle
​
Hobbies: Wood Working
​
Weekend Time: Gardening & Fishing
​
Wish To Learn More About: Alternate Health
​
Favourite Dog Breed: Fox Terrier/Jack Russell
​
3 Things to take on a deserted island: Chainsaw, Matches, Fishing Net
​
Favourite Food: Beef Stroganoff
​
Secret Talent:​​​​​​​​​​​​​ Used to be a Disc Jockey (DJ)
Name: SYLVIA
​
Current Pets: Birds, Fish & Lizard - Spike
​
Animal Interests: Birds & Horses
​
Hobbies: Gardening, Bike Riding, Movies
​
Weekend Time: Bush Walking, Beach and Camping
​
Wish To Learn More About: Gardening & Chooks
​
Favourite Dog Breed: Labrador X
​
3 Things to take on a deserted island: Knife, Lighter, Net
​
Favourite Food: Pasta
​
Secret Talent:​​​​​​​​​​​​​
Name: COOPER
​
Current Pets: Dogs, Chickens, Horse, Cows & Cat
​
Animal Interests: Cows
​
Hobbies: Horse Riding
​
Weekend Time: Sleeping
​
Wish To Learn More About: Horse Feed
​
Favourite Dog Breed: Border Collie
​
3 Things to take on a deserted island: Phone, Dog, Money
​
Favourite Food: Cake
​
Secret Talent:​​​​​​​​​​​​​